Elephant tramples to death suspected poacher as he was trying to shoot it.
Zeigler: Stop saying Chris Kluwe and Brendon Ayanbadejo were cut for LGBT advocacy.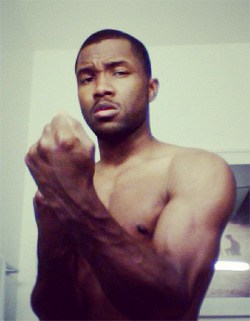 Frank Ocean offers up an "irish (g')night" on Instagram.
Seth Meyers inherits Jimmy Fallon's job.
Is Zambia the next Uganda? "Life has never been comfortable for LGBT people in Zambia, where sodomy is a crime and the constitution proclaims the country to be a 'Christian nation.' But the situation has grown far more dangerous over the last month, following allegations that activists and European governments want to promote same-sex marriage in the country and ending with an arrest in the past week."
Have scientists discovered a lost continent off Brazil?
What are Wisconsin's chances of passing marriage equality? "Wisconsin is one of 28 states with a constitutional amendment that bans same-sex marriage. Back in 2006, 59% of Wisconsinites voted to ban gay marriage. For a law to be approved the legislature would have to repeal the amendment in two consecutive sessions. It would then go back on the ballot for Wisconsin voters to decide. Then, a bill could be proposed."
James Franco taken?
Kylie Minogue as She-Ra.
Portland, Oregon is attracting gays who want babies: "There are several reasons why the City of Roses, which combines small-town charm (fewer than 600,000 people) with a big-city vision that's become an international model for good planning (light-rail, an urban-growth boundary), is becoming a magnet for gay couples on a parental mission."
Tan mom is going to be in a gay porn.
Georgian minister arrested over gay sex tape leak: "The interior ministry said deputy minister Gela Khvedelidze admitted breach of privacy charges over the Internet posting of a secretly-filmed video depicting a threesome purportedly involving journalist Giorgi Paresashvili, who had been running reports accusing high-ranking officials of seizing businesses."
New Zealand guesthouse refuses to let gay couple share a bed: "Jane Collison, 30, and Paula Knight, 45, made an online booking for a room with a king-sized bed at the Pilgrim Planet Lodge. But when they arrived on Tuesday, they were told only rooms with single beds were available. When they queried the booking, the owner eventually told them the booking was correct, but she was offended by same-sex couples sleeping in the same bed. She would not even let them push two singles together."
Metropolis: here's the new video from Owl City.
19 shot and injured at New Orleans Mother's Day parade.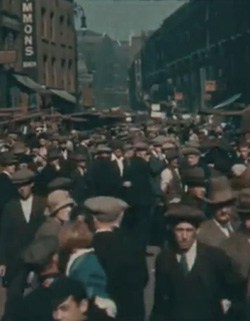 Fascinating color film of London in 1927.
Mark S. King: Why does HIV stigma among gay men persist?
Rainbow flag may take place of rainbow crosswalk in Sydney's Taylor Square.
Trans woman wins right to marry boyfriend in Hong Kong: "Hong Kong's Court of Final Appeal has ruled in favour of a trans woman seeking the right to marry her boyfriend, ending her three-year-long legal battle and sparking a change in legislation that will affect the city's trans community as a whole."
Did the Great Gatsby movie need to be more gay? Nathaniel's review HERE.
Egyptian man disguised as woman is harassed: "The 24-year-old actor walked the sidewalks, hidden cameras in tow, for an investigative television report, hoping the broadcast would enlighten national debate about how to combat deep-rooted day-to-day sexual harassment and abuse in this patriarchal society."