Late last night, hundreds attended a candlelight vigil in Greenwich Village to remember Mark Carson, who was shot and killed in a hate crime just 12 hours earlier. The crowd shouted: "Say his name: "Mark Carson, Mark Carson, Mark Carson!"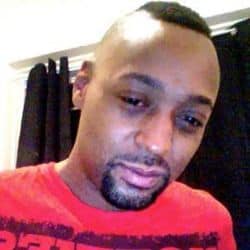 A rally demanding an end to hate crimes against the LGBT community will take place in NYC tomorrow. It will begin at the LGBT Community Center (208 W 13th St) at 5:30PM and continue with a march to the murder scene on West 8th Street and 6th Avenue. There, participants will rally at 6:00 pm.
The NY Times describes the victim:
Mr. Carson, who was 32, had recently moved to Brooklyn from Harlem after scrimping and saving money from his job at a yogurt shop in Midtown, according to Kay Allen, a friend for more than a decade.

"He was a proud gay man," Ms. Allen said. "A fabulous gay man." She noted that he loved going to the Village. "His spirit was too big for this city," she said. "He didn't have a negative bone in his body."
Carson's father was interviewed by The NY Post:
"I thought that kind of hate stuff was gone, but I see that it's not," the victim's distraught father, Mark Carson Sr., told The Post. "It's simply ridiculous. People are what people are. They do what they do. You can't knock down who people are."
CBS2 reports that the suspect was uncooperative after his arrest, shortly after the shooting:
Elliot Morales, 33, was charged with Second Degree Murder As A Hate Crime, as well as Criminal Possession Of A Weapon on Saturday. Morales had been in custody but refused to give his name. He was eventually identified by police using facial recognition technology.
Police are still searching for two people who were with Morales' just before and during the shooting. Also, police officials reiterated that the killing was indeed sparked by hate:
"This fully looks to be a hate crime; a bias crime," Commissioner Kelly said. "There were no words that would aggravate the situation that were spoken by the victims. They did not know the confronter. There was no previous relationship."
Carson's murder is the latest in a concernig spike of anti-gay crimes in the city:
Mr. Kelly said there had been a rise in bias-related crimes in New York City this year — 22 compared with 13 during the same period last year. In just the past three weeks, there have been five attacks directed at gay men, including a vicious assault on a gay couple outside Madison Square Garden on May 5.

Timothy Lunceford, 56, who has lived in the West Village for 35 years, said he believed the killing was a brazen display of a kind of intolerance he had not known in New York for decades. "It's outrageous," he said. "They say we've worked through homophobia, but it's not gone away. It's just not usually as out there in the open like it was this morning."
Watch video of last night's vigil, AFTER THE JUMP.
UPDATE: Morales' two companions have been questioned by police: 
"The two individuals who were with the shooter – they have been questioned and they have been released," Kelly said Sunday. "They're cooperating. They're telling investigators what they know of the events."
Top image by Joe Jervis