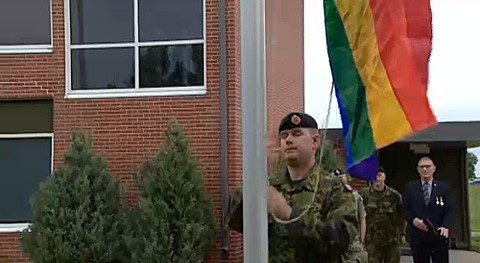 An historic first today for Canada's military as a rainbow flag was raised at an Alberta military base in official recognition of LGBT Pride, CBC reports: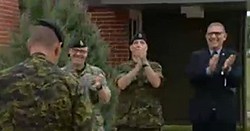 Master Warrant Officer John McDougall, 47, made the request for the flag-raising a few weeks ago through the military chain of command at Canadian Forces Base Edmonton.
A gay-pride flag is raised as Master Warrant Officer John McDougall and GLBT activist Murray Billet look on. (CBC)
McDougall, who is a company sergeant-major in a field medical unit, said he was surprised when his request was quickly granted.
The flag will remain up for a week while Edmonton has its Pride Festival:
"It was history in the making, it was monumental," said McDougall, speaking about the ceremony. "That being said … it's a big deal but it really shouldn't be that big of a deal. We're such an inclusive society — Canada as a whole, not just the military — it shouldn't be a big deal to be gay.
"But it is a big deal that the flag is being raised for the first time at a military base. I think that's part of the sign of the times and it's a further reflection of the military's inclusiveness and their diversity."
Watch the flag get raised, AFTER THE JUMP…