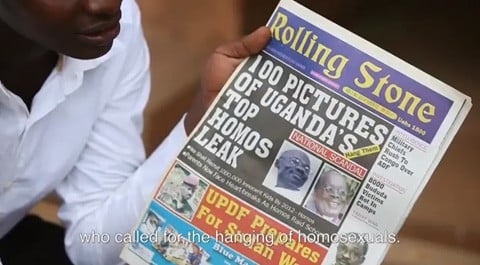 Here's a fascinating new clip from the documentary Call Me Kuchu, opening today in New York. The film documents the story of slain Ugandan LGBT activist David Kato and others prominent in that country's struggle.
If you missed the trailer, which is amazing, you should watch it HERE.
You may remember that in October 2010 Uganda's Rolling Stone tabloid published the names and addresses of 100 "top homos" and called for them to be hanged. In the days that followed its publication at least four of the gay Ugandans on the list were attacked and many others went into hiding, in fear for their lifes.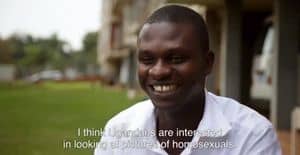 In this clip, Giles Muhame, the tabloid's Managing Editor brags about how man issues the tabloid sold, saying, "I think Ugandans are interested in looking at pictures of homosexuals" and explaining how they use a special investigative technique called "disguise" to figure out who's gay and who's not.
Says Muhame:
"You pretend you're one of them. You Join them. You drink with them. You know all the members, you get their pictures at parties, you see? (laughs) And we got all the facts."
Muhame also says he did not call for them to be hanged (even though the tabloid's cover plainly said "hang them"). "The government does that," he explains.
Watch the clip, AFTER THE JUMP…
Call Me Kuchu opens in New York today at Quad Cinema (34 West 13th Street), and will open in Los Angeles next week Friday, June 21 at Laemmle's Music Hall (9036 Wilshire Blvd).