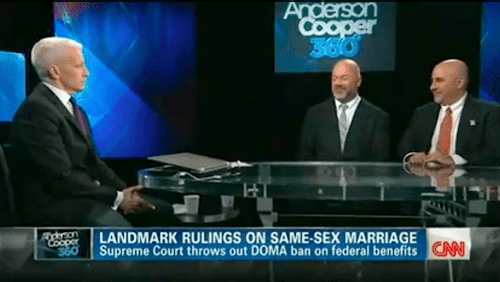 Last night, Freedom to Marry's Evan Wolfson and gay blogger Andrew Sullivan sat down with Anderson Cooper to discuss the end of DOMA and what this decision will mean for gay couples, immigration, and the federal government's 'gay exception.' 
Said Wolfson:
"Today the Court said that the federal government has to go now from being the number one discriminator against gay couples to putting its moral and legal weight on the side of families, on the side of fairness, and on the side of the freedom to marry. We haven't won all the states yet. We haven't finished the job. But but the momentum this adds will continue to bring us forward and our country closer [to full marriage equality]"
He goes on to talk about the realities of legally married gay couples who reside in states that don't recognize same-sex marriages and the work that is still needed to bring full marriage equality to the remaining 37 states.
"Couples should not see there marriages sputter in and out like cell phone service depending on what state they're in," he said
Andrew Sullivan also chimed in on what the DOMA decision will means for binational gay couples who will no longer be saddled with the constant worry of deportation. 
"The whole nightmare is over. They [binational gay couples] can apply for a spousal green card just like a regular human being…if you love someone and want to spend your life with them, the government has no right getting in the way."
Check out the great segment, AFTER THE JUMP…