Gabriel Gomez, the Republican candidate running for the open U.S. Senate seat in Massachusetts, says he supports the Employment Non-Discrimination Act (ENDA):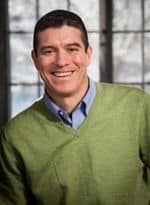 In a statement provided to the Washington Blade from his campaign via email, Gabriel Gomez, a former Navy SEAL, announced his support for ENDA in response to an inquiry on the legislation.
"I support ENDA, because I do not believe in discrimination of any kind, including discrimination by sexuality," Gomez said.
Why is this significant?
Only two sitting Republicans U.S. senators are co-sponsors for ENDA: Sens. Susan Collins (R-Maine) and Mark Kirk (R-Ill.).
On Friday, Rachel Maddow noted that the Republican Party was on a collision course with gay rights, and their socially conservative positions would come crashing down when the Supreme Court rules this month on same-sex marriage.