Australian Prime Minister Julia Gillard was corned by Perth radio host Howard Sattler on his show on Thursday, asking why she wasn't married, the Busselton-Dunsborough Mail reports: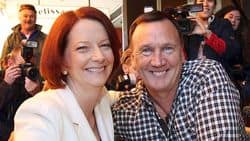 "Personal choice and I think the fact that I'm not married shows obviously I think that you can have a relationship that is committed and full of love and full of significance in your life without being married," Ms Gillard said after earlier restating her opposition to same sex marriage.
"OK but have you been proposed to at all? Come on Tim, pull the ring out son," Mr Sattler followed.
Ms Gillard said she would probably tell her defacto partner "I'm fine," if he did propose, but rejected Mr Sattler's comments "people said" she was "against marriage".
"It's very common for people to live together without being married," she said.
Sattler then went further, asking Gillard if her partner Tim Mathieson is gay, and said people say, "he must be gay, he's a hairdresser."
Replied Gillard:
"Well that's absurd…To all the hairdressers out there including the men who are listening I don't think in life one can actually look at a whole profession full of different human beings and say gee we know something about every one of those human beings I mean it's absurd isn't it."
The interview continued, with Sattler asking her to confirm that he's not:
"Oh Howard don't be ridiculous, of course not."
"But you're in a heterosexual relationship? That's all I'm asking."
"Howard let me just bring you back to earth, you and I have just talked about me and Tim living at the lodge, we live there together as a couple, you know that.
"Yes on the internet there are lots of what I've referred to in the past as nut jobs, people who peddle and circulate vile and offensive things," she said.
Watch a clip, AFTER THE JUMP…
UPDATE: Sattler has been suspended for asking the questions.