Impatient nation demands Supreme Court just get to the gay stuff.

New Jersey Assembly approves ban on gay 'conversion therapy' for minors.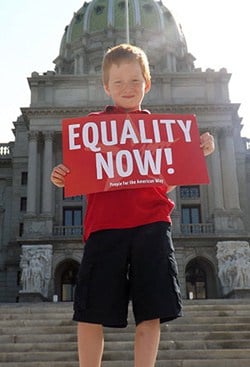 Philadelphia holds rally for marriage equality.

Aaron Carter says he was beaten up by NKOTB fans in Boston for being on the wrong turf.

Is it tacky to have a gift registry at an 'encore wedding'?: "Throw yourselves the wedding that you want, ice sculpture, registry and all. And honored guests, while gifts are always voluntary, rejoice with your friends (and in this moment in history), candy dishes and all. A second wedding does not mean second best."

Samuel Alito is obnoxious.

Miley Cyrus applauds the Disney Channel for introducing a same-sex couple. "Is this this true?!?!?! I commend Disney for making this step into the light of this generation. They control…so much of what kids think! Life isn't bright sets & wardrobe & kids becoming superstars! This is INSPIRING."

Shakesville: SCOTUS' terrible harassment ruling…

Twinkies set to return to store shelves in July.

Blue's Duncan James and Lee Ryan hit the beach in Miami.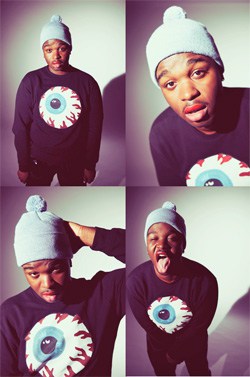 A Q&A with queer rapper Cakes da Killa:
"I think the most valuable aspect of femininity that I am try to embody
as much as I can is the desire to be as pretty as possible. Men don't
really want to be perceived as pretty but as long as I can remember
that's what I wanted everyone to see me as."

Paul Giamatti joins Downton Abbey: "TVLine has learned exclusively that Paul Giamatti (Sideways, Cinderella Man) is joining the Masterpiece/PBS phenom's Season 4 cast as Harold Levinson, the maverick, playboy brother of Cora (Elizabeth McGovern) and uncle to Mary (Michelle Dockery) and Edith (Laura Carmichael)."

Military recruiters to attend SF Pride for first time.

Gay couple contributing to Buffalo, NY's economy:
"The couple will tie the knot this Sunday in a lavish three-day
celebration costing more than $100,000. In black tie and glamorous
gowns, 300 guests will enter the Hotel @ the Lafayette on a 50-foot red
carpet. They will be treated to hors d'oeuvres, filet mignon, sea bass
and sushi. They will be entertained by six celebrity impersonators
brought in from New York City and Toronto, a full-service DJ, and an
11-piece band with three female vocalists. Three expert photographers
and three professional videographers will capture it all."

Johnny Depp and Tom Cruise, together at 50.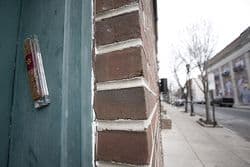 Gay Belgian couple attacked after installing mezuzah: "Two of the neighbors appeared at Meul's doorstep May 24 when she was alone and said they had come 'to finish what the Nazis started,' according to her testimony. The two neighbors barged into Meul's home and proceeded to beat her inside." (image source)

Raiders punter Chris Kluwe talks with Bloomberg Businessweek: "I would also like people to pay attention to the idea of rational empathy, and that as a society, we are walking down a path that's well-trodden throughout history. Every single human civilization has failed over time, and my belief is that it's due to a lack of rational empathy, of understanding that if you don't have equality in your society, the conflicts you breed (whether internally or externally) will eventually cause its collapse."