Fashion designer John Galliano gives VF first interview since firing.

Lauryn Hill responds to accusations of homophobia on Tumblr: "Neurotic Society is a song about people not being, or not being able to be, who and what they truly are, due to the current social construct. I am not targeting any particular group of people, but rather targeting everyone in our society who hides behind neurotic behavior, rather than deal with it."

Michael Douglas walks back oral sex cancer remarks.

Michael Jackson's daughter Paris hospitalized following suicide attempt.

Adam Lambert fills up his tank.

New report examines how LGBT workers face discrimination, get fewer benefits, and pay more taxes: "Imagine doing the same job as your coworker, but being told that your child, unlike your coworkers', is excluded from the company's health insurance plan…making the same mandatory contributions to Social Security, only to know that your family, unlike your coworkers', will be denied benefits should something happen to you. Then, on top of it all, imagine being hit with a much higher tax bill."

Keith Olbermann returning to TV: "After a messy public breakup with his last employer resulted in a $50 million lawsuit, Keith Olbermann will return to television in October as a studio host for Turner's coverage of the Major League Baseball postseason."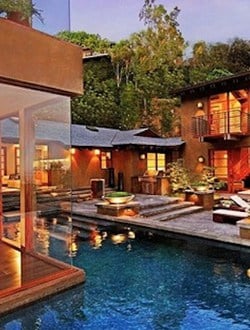 Dance music producer Calvin Harris plops down $7 million for a Hollywood mansion.

Here's some video from Peter 'Porno Pete' LaBarbera's stake-out of the Human Rights Campaign yesterday, if you can stomach it.

New Zealand man jailed for 18 years for gay teen's murder:
"Gosnell, 28, was convicted by a jury in April of the murder of the
15-year-old, in a prolonged assault at a Christchurch flat. He then cut
his body into pieces with a jigsaw and dumped his remains."

Colin Farrell shirtless and steaming after a yoga workout.

Northwest Parent magazine features a couple of gay dads!

Baroness Liz Barker comes out during House of Lords marriage equality debate: "What we are doing today does not undermine any existing or future marriage. It extends the status of marriage to gay men and lesbians who want to make a public commitment in the presence of their families and friends, and sometimes their co-religionists. It reflects the wishes of those people who today do not want just to tolerate lesbians and gay men; they want to celebrate and support them as people in their own right."

Justin Timberlake and Ben Affleck in new gambling buddy film.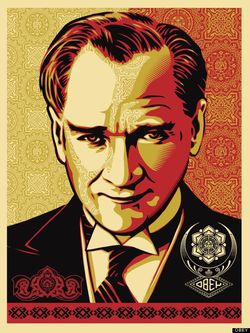 Shepard Fairey offers support to Turkish protesters with portrait of former Turkish leader Mustafa Kemal Ataturk. "A few years ago I made an image of Ataturk at the request of a Turkish friend. Ataturk was a champion of Turkish Democracy and secular government. I am offering a free download of my Ataturk image as a symbol of democracy and free speech."

The NYT covers the UK House of Lords vote on marriage equality:
"Their average age is 69. Once a year, they unearth fur-lined robes
from their family vaults (or from the vaults of upmarket robe-rental
shops) and process regally into Parliament as if it were still, say,
1599. So it was startling to hear some of the speeches in the chamber
this week."

House LGBT Equality Caucus grows: "We obviously have grown as a caucus in terms of the co-chairs, the openly gay members of Congress. We now have six people in the House — and obviously, one in the Senate," Cicilline said. "What this year marks is not just that we're here but that we're here in a big enough number that we have a real caucus, with staff, so that now the work that we're doing can be supported in our efforts to push LGBT legislation, to do outreach and education, to be a coordinating force for all of the co-chairs, to be a central point of contact for the community and so that we'll be able to speak as a united voice on important issues."