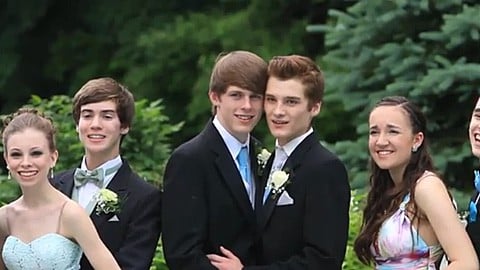 Brad Taylor and Dylan Meehan, the gay Carmel, NY couple who have become a viral internet sensation this week, talk to USA Today as they headed to prom on Monday: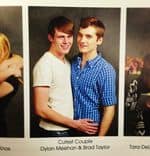 Their best friend, Chelsea Blaney is responsible for their Internet fame. After she posted a picture Friday of the two on her Tumblr blog, saying they won cutest couple, she went from 15 likes to 7,000 in minutes, she recalled.
Her blog and Taylor and Meehan's picture have since been shared online more than 100,000 times. Taylor said he soon got a message from his cousin in Pennsylvania saying they were "Tumblr famous." Other messages have poured in from around the world.
"I got comments from 'They're cute' to 'This has inspired me to come out to my parents,' " said Blaney, 18. "It's mind-blowing."
The couple is headed to NYU in the fall, to the Gallatin School of Individualized Study, where they expect to study theater, business and the sciences. Both have 4.0 grade point averages and scholarships, according to USA Today.
Watch their interview (warning: autoplay), AFTER THE JUMP…