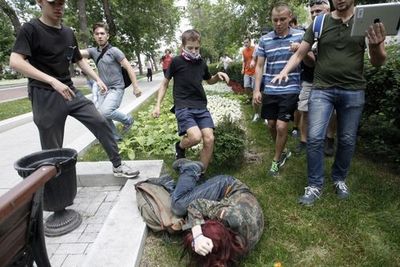 PHOTO OF THE DAY: Gay rights takes a terrible beating in Russia.
BY SAM GREISMAN
A look back at today's top stories
WINGNUTTERY
Russia's lower parliament or "Duma" proved today that they are a very angry and hateful group of people as they voted 434-0 in favor of a ban on "gay propaganda". Meanwhile gay activists were out in force in Moscow to protest to the decision and felt the full brunt of the police state. 
There has been a rash of anti-gay attacks in Columbus, Ohio where three gay men have been attacked in the past week. Today Pope Francis confirmed the existence of an all powerful 'gay lobby' within the Vatican. Mwahaha! And a children's museum in Jacksonville, Florida recently told a lesbian couple and their children that they are in fact not a family. 
**
ENTERTAINMENT
It's LGBT pride month and pride festivities are beginning all across the country. Watch as a straight man on the street interviews some members of the gay community in Philadelphia and gets their reactions to important gay issues (read: Amanda Bynes). Speaking of pride, this seems like a solid candidate for the anthem for all pride festivities. True Blood certainly has a very loyal gay fanbase; check out our roundup of six of the best gay moments from the show's history in honor of the upcoming season.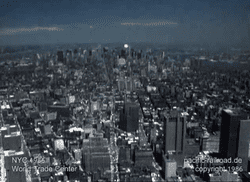 There was a wonderful surprise awaiting an adorable lesbian military couple when they sat down with Ellen earlier this week. The boys from Lonely Island have a new video out and this one features the likely combo of Paul Rudd and Robyn. Also George Takei tells us why all of nature is gay. 
**
VIDEOS OF THE DAY
It's official. This crazy woman should never be allowed to go to Dunkin Donuts again and no one likes Strawberry Coolada's as much as her. Struggling to find the appropriate way to inform your loved one's that you're gay? This video gives you 20 great suggestions. Also take a look at New York in the height of it's dirty 80's phase.