Pastor Bill Devlin "failed to sign in with an officer" at the Harrisburg office of Pennsylvania Attorney General Kathleen Kane and was found attempting to reach her upstairs office yesterday, when he was confronted by Capitol Police, the Philadelphia Daily News reports: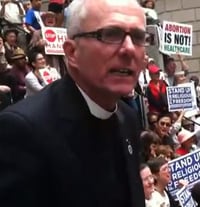 When officers confronted Devlin, he laid down in an elevator with the door open and refused to move. "The police asked him to get up, he did not, so they handcuffed him and they carried him out of the building," Lubart said.
Devlin, an activist who has, among other things, gone on a hunger strike to protest the church ban in NYC schools, was trying to reach Kane to confront her about the announcement she made this week:
The pastor said he was moved to travel to Harrisburg to pray that "God would soften [Kane's] heart" after the A.G. announced earlier this week that she would not defend Pennsylvania's ban on same-sex marriage. The law is being challenged in a federal lawsuit filed on behalf of 23 state residents by the American Civil Liberties Union.
"I decided at about 6:30 this morning after hearing of the [Attorney] General's decision not to uphold Pennsylvania law, I said, 'Someone's gotta uphold Pennsylvania law,' so I went out to pray for her, and obviously I crossed the line and was arrested," Devlin said yesterday.
Devlin faces a disorderly conduct charge and a fine of $50 to $300.
Kane's announcement, if you missed it, AFTER THE JUMP…
Make sure not to miss a Towleroad headline by following @TLRD on Twitter.