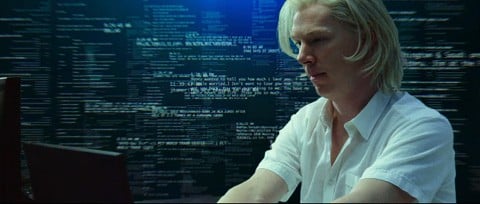 The trailer for The Fifth Estate, the movie starring Benedict Cumberbatch as Wikileaks founder Julian Assange, directed by Bill Condon. Assange has called the film "a propaganda attack on Wikileaks".
Watch, AFTER THE JUMP…
Vulture talks to Condon about the film:
We're trying very hard to make a movie that raises all the questions without providing all the answers. Even recently, when you saw what happened with the Snowden case, I think it's hard to come down cleanly on one side because this is all just unbelievably complicated; only by getting involved and understanding the issues can people come to an informed decision of their own. I don't want to make it sound like a history lesson, but I think the movie does show, in an exciting way, just how complicated these issues are. And the tagline, it has to do with the idea of citizen journalism, the great wild west of the Internet. It's a true revolution that we're just coming to terms with.
Condon also responds to Assange's 'attack' assertion:
He had a tremendous falling-out with Daniel, and they have a real disagreement about events as they occur. Our movie is also based on a book by a Guardian reporter, and Assange took exception to that, too. But you know, he took exception to his own autobiography, which was ghostwritten by a wonderful author — he wouldn't allow the release of it because it had things that were mildly critical of him. So he's somebody who doesn't really take well to presenting any other side.