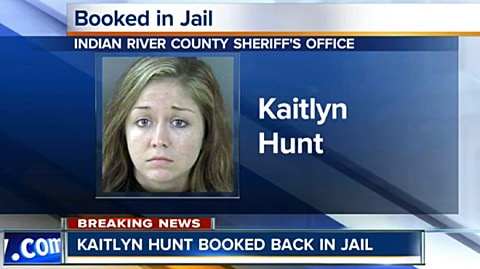 19-year-old Florida teen Kaitlyn Hunt, who last February was arrested and charged with two felony counts of lewd and lascivious behavior on a child because she had a relationship with a 14-year-old female school classmate when she was 18, was arrested again last night, WPTV reports:
As some people in the Sebastian area wish to talk about the case less, Hunt's legal troubles are garnering more attention states away. A Boston-based lawyer recently signed on to consult with Hunt's defense team. Attorney William Korman says that new allegations that Hunt violated judge's orders not to contact the victim should not sway public opinion. "If people were supporting her then, they should still continue to support her," said Korman. "The fact that there's new allegations doesn't change anything."
On Monday, prosecutors withdrew a plea deal that they were offering Hunt. The plea deal – that would have kept her out of jail – was withdrawn. Prosecutors said that Hunt and her mother had been communicating with the victim, telling her to delete the texts so no one would find out.
Hunt was booked into the Indian River County Jail Monday evening, said Sgt.Thomas Raulen, spokesman for Indian River County Sheriff's Office. She continues to face felony charges and may have to register as a sex offender if convicted.
Watch, AFTER THE JUMP…