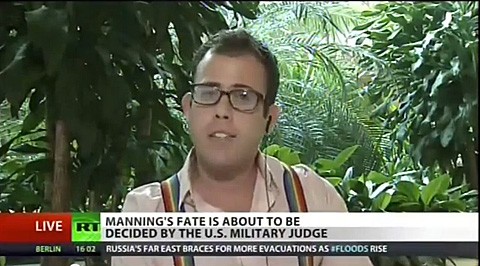 Gay journalist James Kirchik appeared today on RT in a segment on the Bradley Manning verdict and decided to take his two minutes and rip Russia's anti-gay laws and blast the network and its reporters for shilling propaganda to the public and refusing to denounce oppression against LGBT people.
Said Kirchik: "I'm not really interested in talking about Bradley Manning. I'm interested in talking about the horrific environment of homophobia in Russia right now."
The must-watch video, AFTER THE JUMP…
As Towleroad reported earlier this month, RT (formerly Russia Today), the partially state-funded network founded with the intention of improving Russia's image abroad, has been supportive of the country's ban on "gay propaganda" and has tried to make the argument that the silly "warped" Americans don't know what they're talking about.
(via buzzfeed)