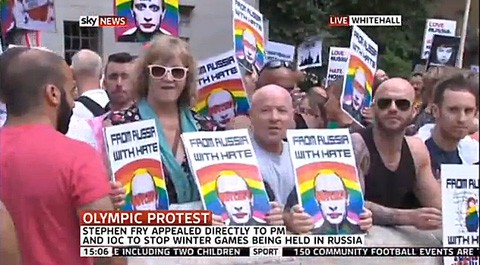 Hundreds took part in a protest against Russia's anti-gay laws in London today, Reuters reports:
Gathering in the British capital near the residence of Prime Minister David Cameron and the foreign ministry, demonstrators called for the government to push Russia to repeal the laws.
"Putin is the 'Czar of Homophobia'," veteran gay rights campaigner Peter Tatchell wrote on his website ahead of the protests. "His regime has outlawed the public expression of LGBT (Lesbian, gay, bisexual and transsexual) identity and affection – and prohibited the advocacy of LGBT human rights – in circumstances where a person under 18 might see it."
Clutching banners bearing slogans such as "Love Russia. Hate Homophobia" and rainbow flags, protesters called for a change in the policy that has attracted criticism from world leaders including U.S. President Barack Obama.
Watch a Sky News report on the protests and the UK's response to Russia, AFTER THE JUMP…
PM David Cameron responded to actor Stephen Fry's call for a boycott of the Olympics via Twitter:
Today Mr Cameron tweeted: "I share your deep concern about the abuse of gay people in Russia. However, I believe we can better challenge prejudice as we attend, rather than boycotting the Winter Olympics."