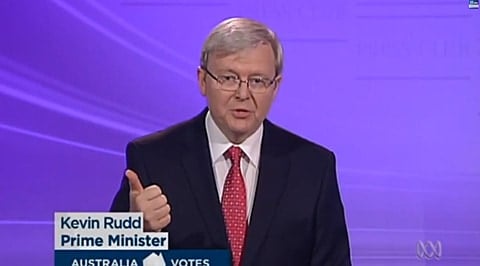 Australian Prime Minister Kevin Rudd promised to legalize same-sex marriage within the first 100 days in office if he beat Conservative opposition leader Tony Abbott in the September 7 election.
Rudd said he supported legalising same-sex marriage "as a mark of decency to same-sex couples across the country who wish the same loving, caring relationship that, for example, I have had with Therese my wife now for the last 32 years, and for that to be formalised".
He promised Labor MPs would again have a conscience vote on the issue and he "appealed to Abbott to do the same because folk out there want this to happen".
Tony Abbott said he understood same-sex marriage was "a very important issue", acknowledging his gay sister, Christine Forster, who was in the National Press Club debate audience with her partner.
But he said the matter had been recently debated by the parliament and would not be a high priority for an incoming Coalition government. He said it would be up to the Coalition party room to decide whether Coalition MPs should get a conscience vote, if it ever came up in the future.
Watch the two candidates debate the issue, AFTER THE JUMP…