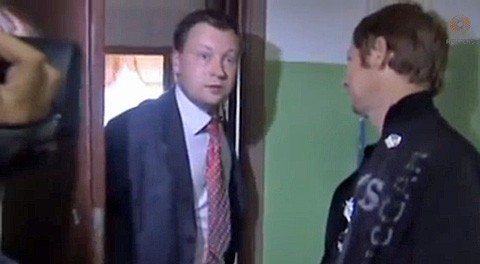 Russian police have raided the home of Nikolai Alexeyev, a leading gay activist who has lately been taking some polarizing positions regarding response from the West to Russia's anti-gay laws.
Watch the Reuters report on the raid on Alexeyev's home, AFTER THE JUMP…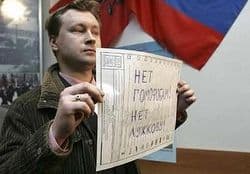 Alexeyev, whose efforts in Russia have been well-documented on Towleroad, recently wrote a lengthy essay for RT (the Kremlin-owned news organization that has defended Russia's anti-gay law and last week kicked off gay reporter James Kirchik after he protested the law on-air). In the essay, Alexeyev criticizes Queer Nation for promoting the views of Russian LGBT activists and "celebrities" living abroad who Alexeyev claims are hypocritical:
In the United States one LGBT group, Queer Nation, even drafted a list of "33 prominent Russian LGBT activists" who support the idea of the Olympics boycott, even though a few signatories already said they were duped. This was clearly done to persuade the world that such a tactic is the best way forward and is supported by the Russian LGBT community. The authors of this letter forgot to explain that most people on their list are Russians living abroad, are absolutely unknown in the LGBT movement in Russia, and never organized any campaigns or public events in Russia itself. The list is headed by journalist Masha Gessen, an American citizen who, being also a Russian national, is threatening to leave Russia for several months and claiming that the Russian authorities are taking children from their homosexual parents, which of course has nothing to do with reality.
Where was she or any other of those "prominent Russian LGBT activists" in 2009, for example, when we launched the campaign against the law in the Ryazan Region banning propaganda of homosexuality to minors? Where have they been since 2006 when this law was for the first time implemented in Russia? I searched hard, but found they were silent. At that time they did not consider gay propaganda bans as a horrific legislation. One of those Russian LGBT "celebrities", Vyacheslav Revin, compared activists of GayRussia.Ru and Moscow Pride, Irina Fedotova and Nikolay Bayev (both, surprisingly still living in "Middle Ages" Russia) who went to protest in front of children's libraries and schools in Ryazan in March 2009, as no different from pedophiles.
Alexeyev claims people purporting to be LGBT activists are being granted asylum in the U.S. on fraudulent terms:
A week ago I received a message from one of my Facebook friends who lives in the US. He quoted me the letter he received from a Russian gay guy in Moscow preparing to leave Russia to ask for political asylum in the States. The plan is already being actively fulfilled. A fake police protocol as a sign of prosecution by the authorities is ready, the door of the flat is painted with the word "pidor" (faggot). Looks like this will be enough for him to get his asylum. A small bribe, a direct air ticket – that is all one needs to fulfill the dream. There is another such gay family which I heard about and who recently moved to San Francisco, not even bothering to collect any evidence of prosecution in Russia. They will surely be granted asylum, their cat included. Like the Russian mafia scam that organized fake asylum for straight people in the US a few years ago, we will soon see crowds of straight people – most of them homophobes – being granted asylum on gay grounds.
Alexeyev sees LGBT rights battles he has been fighting for in the Russian courts as being overshadowed by "eccentric" boycotts by Westerners:
Both verdicts, Alekseyev v Russia and Fedotova v Russia, will ultimately be implemented in Russia, because it recognized the jurisdiction of both instances. It will take time and we are continuing our fight for this final step in our battle. On top of that, we have three dozen other cases pending at the European Court, covering virtually all aspects of LGBT rights violations in Russia – widespread bans of public events, denials to register NGOs, including "Pride House Sochi" and "Marriage Equality", hate speech, gay propaganda bans and marriage rights. But prominent figures in the West think they have their own understanding of the situation in Russia and the way the LGBT movement should proceed.
They think the strategy of boycotts when dealing with Russia will work, like it sometimes works in their own countries. So, they want to export them. After all, it is an easy way forward, just gather the media and start to do something eccentric, like dumping vodka on the pavement. At the same time, I personally do not understand why a private company producing it has to bear the consequences of being held responsible for the policy of the Russian state?
Alexeyev also offers suggestions for moving forward – targeting politicians:
The international community would be much more effective if it listened to the activists on the ground, and brought to justice those who are directly involved in stirring up homophobic hysteria in Russia. For many years I have been calling for entrance visa bans for those Russian officials who are personally behind the implementation of gay propaganda laws. No one wanted to support an action that at first could be seen as administrative, because no leading organization will ever support an action on which they cannot earn their share of fame and future grants. Yes, it would have been very complicated for All Out to get signatures for a petition to deny visas to Russian politicians versus a petition to the International Olympic Committee. And proof is that the petition I launched with US activists to President Obama raised only 8,000 signatures against over 300,000 for the All Out petition to the IOC. But what have 300,000 signatures and one photo in front of the IOC Swiss headquarters changed? Nothing! The IOC has not moved one finger in our direction. They only swallowed the Russian official position on gay propaganda law, which will stay in force during the Olympics whatever is being said.
Now think, what would a visa ban for two of the most prominent Russian anti-gay politicians lead to. If you don't know, or if you are unsure, then step back and check the outcry the Magnitsky List has created in Russia among politicians, leading to serious consequences such as the adoption ban of Russian children by Americans. Yet it is easy to understand that you must hit the politicians where it will hurt them the most. Prevent MP Mizulina from entering Belgium and she will have to think why a country like Belgium, which legalized gay marriages and gay adoptions, and where her own son lives and works in a gay-friendly company, no longer wants her. These wounds will be nothing compared to the irreparable loss of gay teens who decided to commit suicide after being harassed by mentally disturbed skinheads whose anti-gay hatred was fueled by the same politicians.
Alexeyev also suggests that the European Court be lobbied.
Watch the Reuters report on the raid on Alexeyev's home, AFTER THE JUMP…