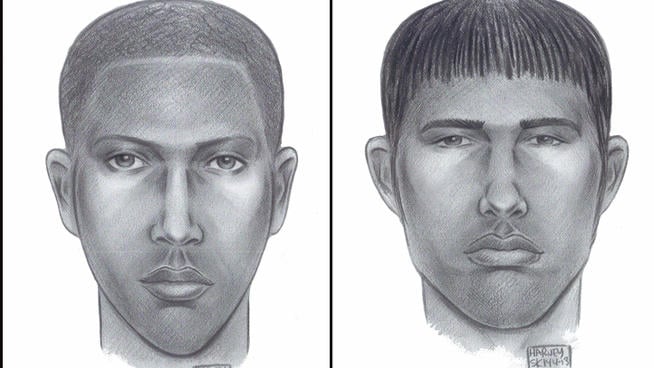 Police released sketches of two of the six suspects wanted in an anti-gay attack on couple in NYC's Chelsea neighborhood. The two men were walking hand-in-hand shortly after midnight on Wednesday before being attacked by the mob of men.
WNBC reports:
Peter Nortman and his boyfriend, Michael Felenchak, had left the Chelsea Cinemas just after midnight early Wednesday when they were confronted by two men on West 24th Street, according to police.

One said "what are you looking at, you f——." The attackers then started punching the victims while hurling anti-gay slurs. Police say four more men approached, who were believed to be friends of the suspects, and joined in the assault.

Nortman and Felenchak tried to fight back, but were ultimately overpowered.

"We did what we could," Nortman told NBC 4 New York. "It was six of them and two of us."

The victims were both taken to the hospital, Nortman with a bruise to the head and Felenchak with a wound under his bottom lip that required seven stitches.
On Thursday, City Council Speaker Christine Quinn held a press conference with both Nortman and Felenchak in attendance.
The attack has forced Nortman to avoid the area. According to the NY Daily News:
"I'm not going to take that corner (for granted) anymore," said Peter Nortman, who was pummeled during the anti-gay attack on W. 24th St. and Ninth Ave. just after midnight Wednesday. "I'm going to walk a little further and see what's going on first.
Police are investigating the attack as a hate crime.
Watch a CBS2 news report on the attack, AFTER THE JUMP.