The NYT profiles the coming out of Santa Barbara's women's tennis team, Simon Thibodeau: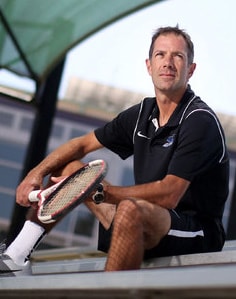 "I'm gay," he finally said.
There was awkward silence, mostly stemming from surprise. One player applauded. The rest smiled, shrugged and wondered about the summer schedule.
"No one thought it was a big deal," said Erica Cano, captain of last year's team and now an assistant coach. "All this big buildup, then: 'Oh. O.K.' "
To Thibodeau's college players, perhaps, it was not a big deal. But to him, it was a life-altering moment after years of inner turmoil. And to those in college coaching and tennis, Thibodeau's public pronouncement of homosexuality promises to make him an unassuming pioneer.
"It feels so free," Thibodeau said. "I'm not hiding anymore. If you ask, I'll tell."
According to the newspaper there are just a handful of out NCAA Division 1 head coaches – "Portland State women's basketball coach, Sherri Murrell; the Kennesaw State men's (and former women's) tennis coach, T. J. Greggs; and Kirk Walker, the longtime softball coach at Oregon State, now an assistant at U.C.L.A."
It all makes Thibodeau, 40, a successful college coach with deep ties in international tennis, a candidate to become a public spokesman for barrier breaking in sports and a private counselor to those struggling to make sense of their feelings.