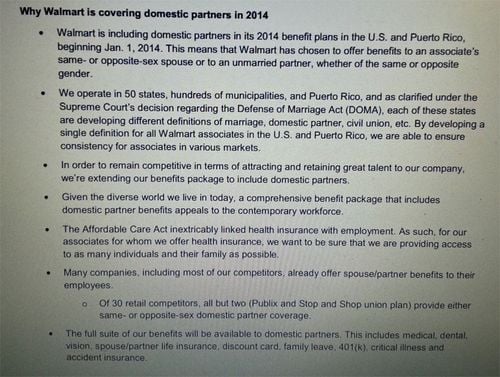 According to an internal memo obtained by Towleroad, Walmart plans to include domestic partners in its 2014 benefit plans in the U.S. and Puerto Rico starting on January 1, 2014 and will offer benefits to an associate's same- or opposite-sex spouse or to an unmarried partner, whether of the same or opposite gender.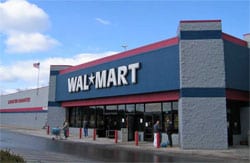 Walmart has 1.3 million U.S. employees and is the largest employer outside the Department of Defense.
The news was given to employee members of the PRIDE associate resource group, which numbers close to 750, yesterday.
The new policies appear to be a response to stem confusion resulting from the recent Supreme Court DOMA ruling.
Said Walmart in the memo: "We operate in 50 states, hundreds of municipalities, and Puerto Rico, and as clarified under the Supreme Court's decision regarding the Defense of Marriage Act (DOMA) each of these states are developing different definitions of marriage, domestic partner, civil union, etc. By developing a single definition for all Walmart associates in the U.S. and Puerto Rico we are able to ensure consistency for associates in various markets."
The new policies are also going in place to attract and retain talent at the company, according to the memo.
The company says that the full suite of benefits will be available to domestic partners including medical, dental, vision, life insurance, discount cards, family leave, 401K, and critical illness and accident insurance.