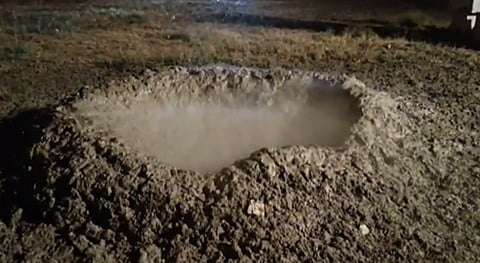 A new geyser opened over the weekend near the perimeter fence of Rome's Fiumicino airport less than 1000 yards from the end of a runway, the Telegraph reports:
Spectators gathered around the smoking crater, which measured about six feet wide and three feet deep, before firefighters and vulcanologists arrived to seal off the roundabout to prevent inhalation of the gas, suspected to be a cocktail of carbon dioxide, hydrogen sulphide and methane. Tests are now underway. While initial reports suggested the gas came from rotting organic matter trapped underground, one expert said volcanic activity was more likely.
"From Mount Etna in Sicily up to the Alban hills around Rome there is a good deal of underground volcanic activity," Alberto Basili, a seismologist at the Italian National Institute for Geophysics and Vulcanology, told the Daily Telegraph.
Watch the vent hiss and spew, AFTER THE JUMP…