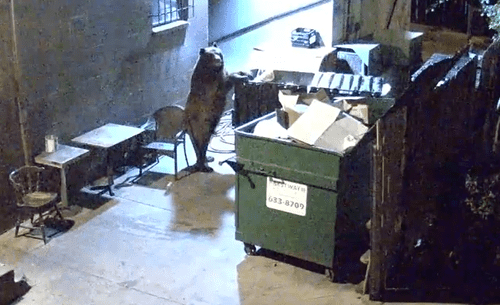 Bears are powerful animals that catch and hunt all sorts of food in the wild. But sometimes, after a long week, all you want is takeout. That was seemingly one hungry bear's attitude early Wednesday morning in Colorado Springs. She didn't stop at a styrofoam box of goodies, though; she took the whole dumpster.
A hungry bear with a hankering for German food has made repeat visits to a Colorado Springs restaurant, where security cameras have caught the bruin Dumpster-diving.
During a Wednesday morning visit to the back door of the Edelweiss Restaurant, 34. E. Ramona Ave., the bear pushed the garbage bin about 50 feet into the parking lot, flipped the container over and opened the lid to eat food tossed the night before.
…
"There's some fresh, really good food" attracting the bear, Edelweiss manager Dieter Schnakenberg. "She passes up the recycling bin and goes right for the good stuff."
The restaurant is beginning to think of measures to secure the dumpster, including chaining it down or installing a locking lid mechanism. If the bear returns repeatedly, the Coloardo Parks and Wildlife division will likely get involved. 
Watch this industrious bear put her brain and claws to good use, AFTER THE JUMP…