Last night Towleroad published a letter to Brian Lyons, the owner of Cleveland's Cocktails Lounge, which has been the focus of a series of neighborhood hate crimes against both the gay bar and its patrons. The letter, from the City of Cleveland's Director of Public Safety Marty Flask, said Lyons had been calling the police too often and threatened him with further action if he continued to do so.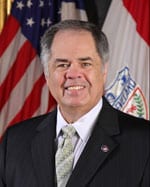 It also provoked immediate outrage on social media, so much so that Flask published a response late last night on the city's website. Flask claims that the incidents he refers to in the letter are not related to the alleged hate crimes at Cocktails Lounge but are related to other disturbances. He calls his letter "bad timing" and rescinds it.
The Mayor of Cleveland has also directed Flask to set up a meeting between the police commander and the owners of Cocktails Lounge to address the issues of crime against the bar.
Flask's statement below, also posted on the city of Cleveland's website:
Statement from Marty Flask, Director of Public Safety regarding a nuisance warning letter sent to the owner of 9208 Detroit Avenue
The letter received by the owner of Cocktails on Detroit Avenue is not related to recent alleged hate crimes that are currently being investigated by the Division of Police. Rather, it is an early warning letter that the Department of Public Safety sends to property owners to help prevent a location from becoming a "nuisance property", as identified in Chapter 630 of Cleveland's codified ordinances. 224 such letters have already been sent to various property owners this year.
The timing of this letter was an unfortunate coincidence. If I had to do it over again, I would have handled this particular situation differently. After reviewing this issue with Mayor Jackson, he has directed me to rescind the letter and instead set up a meeting with the District Commander and the property owners so that we can work together to address the issues raised by the calls for service to 9208 Detroit Avenue. Cleveland Police responded to 9208 Detroit Avenue nine times between September 2, 2012 and September 1, 2013 for a variety of complaints, including fights, disturbances and robbery. 13 complaints were received during that time frame. None of these complaints were related to the alleged hate crimes that are currently being investigated.