Community and LGBT activist (and former political editor for Towleroad) Corey Johnson has declared victory his NYC District 3 City Council primary race. Johnson will take the seat vacated by Council Speaker Christine Quinn in a district that counts Chelsea, Hell's Kitchen, and the West Village among its neighborhoods.
Tweeted Johnson: "WE WON!! IT'S OVER!! THANK YOU ALL!!"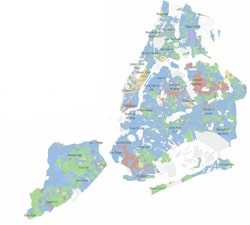 A NY Times report on the vote tally showed Johnson with 60% over opponent Yetta Kurland at 39% with 99% of voting areas reporting. Kurland, a civil rights lawyer, is also openly gay.
Bill de Blasio took a wide lead in New York City's Democratic mayoral primary tonight, poised to beat out eight other contenders, including William Thompson and Quinn, who had hoped to be NYC's
first woman and first openly gay mayor. It was unclear if De Blasio would have the 40% needed to avoid a run-off with the runner-up.
In other City Council races, transgender candidate Mel Wymore came in behind Helen Rosenthal in District 6 with 22% of the vote to Rosenthal's 27%, and Carlos Menchaca won his race in Brooklyn's District 38 by 57% to 42% over his opponent Sara Gonzalez.
In the NYC's Comptroller race, Scott Stringer beat Eliot Spitzer by 51.8% to 48.2%.