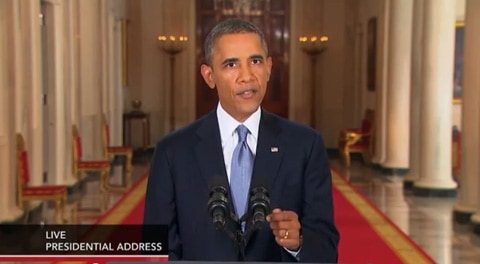 In a special primetime address to the nation, President Obama argued his case for the use of military action in Syria, and recent developments that could lead to a diplomatic solution to the crisis over chemical weapons. Specifically, a proposal that international monitors take control of Assad's arsenal and ultimately oversee its destruction.
Watch the speech, AFTER THE JUMP…
The NYT offered an excellent summary of the rapidly-changing developments shortly before the speech:
On Monday, Secretary of State John Kerry told reporters in London that President Bashar al-Assad of Syria could avert a strike if he turned over his chemical weapons stockpile within a week, adding that such an outcome was unlikely. Mr. Kerry's staff later described the remark as a "rhetorical exercise," but by Monday night his apparently off-the-cuff proposal had gained broad support, including a warm welcome from both Syria and Russia, which said it would bring Syria's chemical weapons under international control. On Tuesday, France said it would propose a United Nations Security Council resolution calling for Syria to allow weapons inspectors to oversee the destruction of its chemical weapons stockpile and to require it to sign the international treaty banning the use of such weapons. But Russia responded that the French resolution was "unacceptable" because it allowed for military enforcement, and said it would propose its own measure.