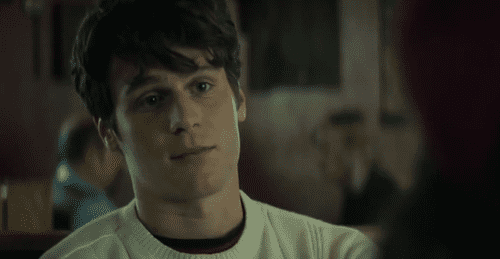 Jonathan Groff of
Glee
 fame sat down with
New York mag's Vulture
to discuss his new film
C.O.G.
 in which he plays a young David Sedaris. Groff dishes on meeting the author, his hesitation to play him (given that they look and sound nothing alike) and also antics on the set. Here's an excerrpt:
You've met David, obviously?
I just met him for the first time [here at Sundance], which is probably the highlight of the whole experience.
What was that like? 
I was very nervous to meet him, because I just didn't know what to expect. And we made this whole movie about his life, this whole experience that he had, and he hadn't even seen it yet, and he doesn't really do a lot of interviews or do pictures — you know, he's not a big press person.
Yeah.
So, we met at the party right before the movie, and he was sort of sitting in the back corner, and I went over to him, and he's a big Glee fan, which I didn't know. He's like, "I love Glee, I've seen you on Glee. I love that show." So, we talked briefly about that. He was very easy to talk to, and really nice. And then I order a Diet Coke for my mom, who was also there. And I said, "I'm so sorry to leave, but I'm going to go give this Diet Coke to my mom." And he said, "Oh, I want to meet your mom." And I was like, Oh my God, David Sedaris wants to meet my mom! I'd imagined me, like, elbowing my way with my mom, to be like, "David, please, I want you to meet my mom," but he was like, "I want to meet your mom." [Laughs.] And then we walked over to my mom, and they met, and then we were all sort of chatting or whatever, and then I got moved away, and then twenty minutes later, I look over, and David Sedaris is still talking to my mom. 
What?
I know! He was, like, obsessed with my mom. He just kept talking to her, and then everybody moved from the party to this tent where we do the press, and as we were posing for pictures, I said, "David, thank you so much for being so generous with my mom," and he was like, "She's so sweet! And she's so short, she must be the shortest gym teacher in all of Pennsylvania!" He's obsessed that she's a gym teacher in Pennsylvania. He wouldn't stop talking about it.