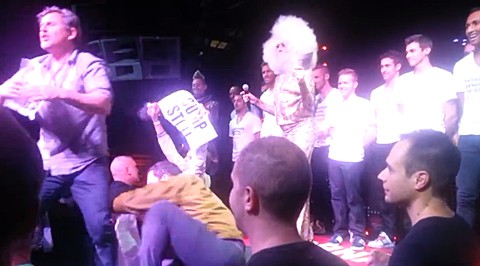 ACT UP New York and Queer Nation activists disrupted another Stoli event last night protesting the promotion of Russian vodka. Stoli, which is produced by SPI group has denied that it is a Russian-owned company since it is based in Luxembourg and bottled in Latvia but has said that its ingredients and production are sourced in Russia.
Five demonstrators affiliated with ACT UP New York and Queer Nation stormed the stage at Marquee New York in Chelsea at the start of the Most Original Stoli Guy national finale, which brought together the winners from competitions in 12 cities. Blowing horns and holding up signs with messages including "Dump Stoli," the group –– Mark Milano, Brandon Cuicchi, Terry Roethlein, Piro Rexhepi, and Chris Kohler –– brought the show to a halt for about a minute, before they were dragged from the stage by the club's bouncers.
As the men were hauled away, one of the evening's hosts said, "We are very lucky to live in a country where we can speak freely." The host added, "And one of the things we are celebrating tonight is the passion that is the Stoli brand, and that is passion."
Watch the video, AFTER THE JUMP…
In July, another Stoli event at Splash bar was disrupted byt the same group of activists.