A new biopic on closeted gay Beatles manager Brian Epstein will be the first ever awarded the right to use the band's original songs and is being produced by Oscar-winning producer (and AFER board member) Bruce Cohen (Milk, American Beauty), Deadline reports.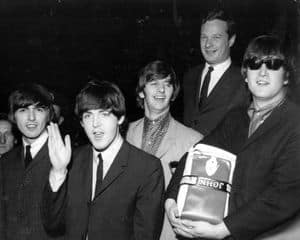 Pic is scripted by Tony-winning producer Vivek J. Tiwary (Green Day's American Idiot, Mel Brooks' The Producers) from his own forthcoming graphic novel with art by Andrew C. Robinson and cartoonist Kyle Baker, which Dark Horse releases November 19. Tiwary will produce alongside Cohen, who won the Oscar in 2000 for American Beauty. Production is set to begin in 2014.
The Guardian adds:
Titled The Fifth Beatle, the film will document the life of Epstein from his discovery of the Liverpudlian group to his death by accidental overdose in 1967 at the age of 32…
Epstein was the closeted gay Liverpudlian entrepreneur who brought the Fab Four to the public's attention. Starting out in the music business by selling records from his father's appliance store in Liverpool, he heard the Beatles on his lunch break at the Cavern Club and relentlessly pursued a record deal with EMI once installed as the quartet's manager…
…There have been efforts to bring Epstein's story to the big screen before, but a planned biopic based on a screenplay by Tony Gittelson floundered in 2009. The manager was played by David Angus in 1991's The Hours and Times, a fictional retelling of a holiday Epstein took with John Lennon (Ian Hart) in 1963. Hart also played Lennon in 1994's Backbeat, about the band's early days performing in Hamburg, in which Epstein was not a major character.