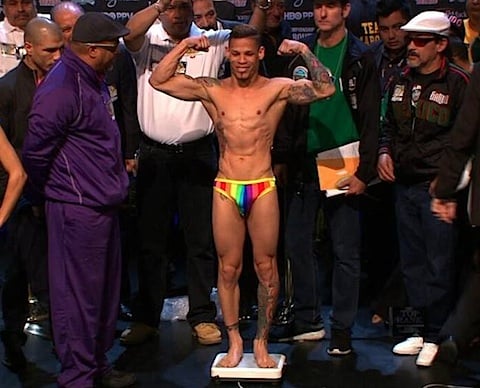 (via andres duque)
Orlando "Fenomeno" Cruz, the first openly gay pro boxer, has a shot at the WBO featherweight title Saturday in Las Vegas, USA Today reports: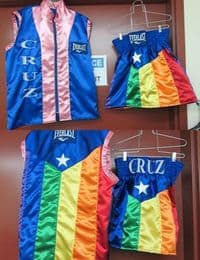 "For me, it doesn't matter," said Bob Arum, the Top Rank chairman and Hall of Fame promoter who put the fight on the undercard of the Tim Bradley-Juan Manuel Marquez main event Saturday at the Thomas & Mack Center (HBO pay-per-view, 9p.m. ET). "The only thing that matters to me is if he can throw punches. Anybody who makes an issue, 'Oh, he's gay, he shouldn't fight,' is stupid. A guy's or woman's sexual orientation is his or her own business."
Arum points out today's culture of embracing and supporting Cruz is vastly different from when Arum started his career half a century ago.
"If I put on a fight with (Cruz) then, there would be a thousand protesters saying it should be boycotted because it involved a boxer who had a different sexual orientation," Arum said during Thursday's news conference. "The world has changed, and it has changed for the better. Because it has changed for the better, we can all take pride in what is happening now."
Cruz wore rainbow briefs at the weigh-in and will wear rainbow colors in Saturday's fight.
Watch the weigh in, AFTER THE JUMP…