John Greyson and Dr.Tarek Loubani, who have been detained in Egypt and held in horrid condidtions since August 16, when they were held during violent anti-government protests in Cairo, have been freed, the AP reports: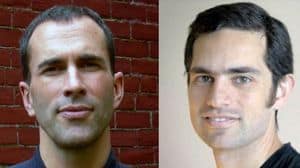 "I look forward to Dr. Loubani and Mr. Greyson being reunited with their families and friends, who have shown tremendous strength during this difficult time," Lynne Yelich, a junior minister responsible for consular affairs said in a statement late Saturday.
Mr. Greyson and Mr. Loubani were released Sunday morning — Cairo time — but there has been no confirmed word on exactly when they will be returning to Canada.
There was no immediate comment on their release from the two men's families.
Mr. Greyson, a Toronto filmmaker and Mr. Loubani, an emergency room doctor from London, Ont. have said they planned to stay in the Egyptian capital only briefly on their way to Gaza last month.
Friends and family have been campaigning for their release and last week published a letter written by the men from the jail where they were being held. It described their arrest and the beatings they endured.