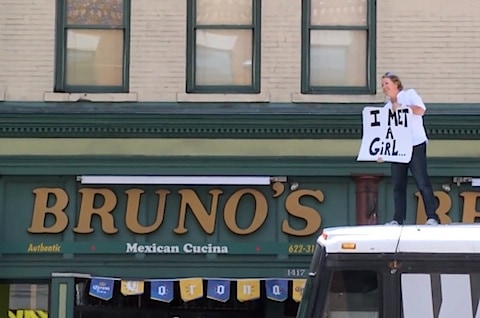 Alissa Haslam writes:
On July 30th I was pulled out of a meeting because of a "disturbance" on the street. When I got to my office window, I saw my girlfriend standing on a bus across the street. What came next was the most genuine, funny, heartfelt marriage proposal.

Just the night before, we were talking about romance and I pretty much told her she wasn't romantic. I am eating crow…and will be for a long time.
Watch, AFTER THE JUMP…
Don't miss our other recent Gay Wedding and Marriage Proposal videos…
Gay Marriage Proposal of the Day: Will and RJ [tlrd]
Gay Wedding Video of the Day: Jordan and Devon [tlrd]
Gay Marriage Proposal of the Day: Spencer and Dustin [tlrd]
Gay Marriage Proposal of the Day: Derek and Robert [tlrd]
Gay Wedding Video of the Day: Johnny and Sebastian [tlrd]