Gay couples will be able to marry at 12:01 am on Monday after the NJ Supreme Court refused to issue a stay in its ruling that the state's ban is unconstitutional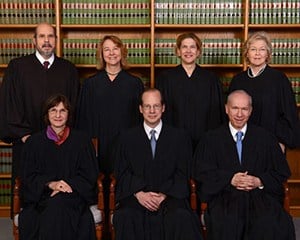 Breaking from Lambda Legal:
Today the New Jersey Supreme Court, agreeing with the lower court's Sept. 27th ruling, denied the State's motion to postpone allowing same-sex couples to marry. Lambda Legal had filed a brief on behalf of Garden State Equality, New Jersey's statewide LGBT advocacy organization, and six same-sex couples who seek the freedom to marry, asking the Court to deny the motion for a stay.
In today's decision, the Court wrote:
"What is the public's interest in a case like this? Like Judge Jacobson, we can find no public interest in depriving a group of New Jersey residents of their constitutional right to equal protection while the appeals process unfolds."
Said Hayley Gorenberg, Deputy Legal Director of Lambda Legal and the organization's lead attorney on the case: "The long wait in New Jersey is finally over – the door is open for love, commitment and equality under the law! This is a huge victory for New Jersey's same-sex couples and their families. Beginning October 21st, New Jersey's same-sex couples will be able to marry and have the critically important rights, benefits, and protections they need for their families. Take out the champagne glasses – wedding bells will soon be ringing in New Jersey!"
Newark Mayor and Senator-elect Cory Booker plans to marry a number of gay couples in the Capitol Rotunda in the first moments that it is legal to do so.