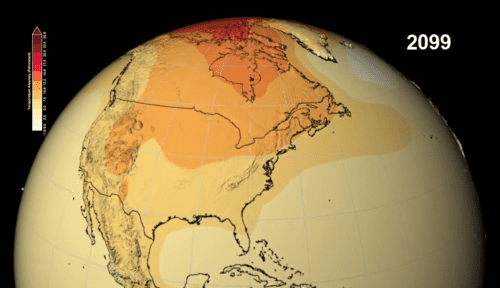 Look out world, things are heating up! A recent study of global climate models has NASA predicting large and uneven temperature and precipitation shifts over the next 87 years (or until the year 2100). A new video indicates the fluctuations through shifting bands of heat and rainfall, and the results don't look pretty.
Of particular interest is the high temperature increase in North America, beginning with the northern stretches of Canada and moving down towards the States. Snow melt, NASA says, will cause less sunlight to be reflected back to space causing that continent to heat up at a faster pace than others. Similarly, the oceans are going to feel the heat less than the rest of Earth's land masses because of their greater ability to absorb the sun's energy. 
Gizmodo reports on NASA's model:
To produce visualizations that show temperature and precipitation changes similar to those included in the IPCC report, the NASA Center for Climate Simulation calculated average temperature and precipitation changes from models that ran the four different emissions scenarios. The final products are visual representations of how much temperature and precipitation patterns would change through 2100 compared to the historical average from the end of the 20th century.
The video shows a scenario where carbon dioxide concentrations reach 670 parts per million by the time we hit 2100. We're currently at 400 parts per million.
Pretty scary, and fascinating, stuff!
Grab your personal fan-mister (and a rain jacket), and watch the video, AFTER THE JUMP…