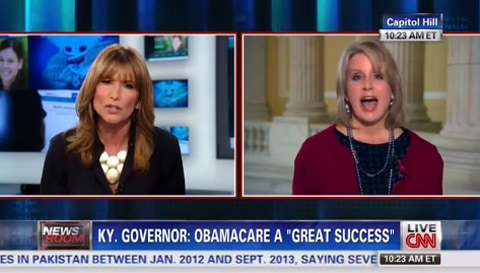 The Affordable Care Act is running into its fair share of problems in terms of its web presence due to a rush-job of a website, but overall the act appears to be succeeding at its intended job of helping American citizens find affordable health care insurance options. CNN interviewed Kentucky governor Steve Beshear about how the program was working in his home state, and evidently it's doing rather well with approximately 1,000 people signing up daily through Kentucky's own program.
When CNN then interviewed North Carolina Representative Renee Ellmers, the facts of Kentucky's success could do nothing to dissuade her from the talking point that Obamacare is "[A] failure at the greatest level and should be an embarassment to the president and his administration."
The only legitimate complaint that Ellmers used was how abominable the Obamacare website actually is. The rest of her arguments were either hopelessly vague, such as having a nameless constituent whose premiums allegedly increased by 400% – though from what to what was not disclosed – or just flat-out nonsensical. Governor Beshear made mention that Medicare took a good two or three years to work out the kinks when it was implemented 50 years ago, which Ellmers somehow twisted into indignant outrage that she is not going to wait 50 years for Obamacare to be functional.
CNN host Carol Costello deserves a fair amount of praise for holding Ellmers feet to the fire and calling out the representative's mealy-mouthed attempts at civility, responding to Ellmers' "I appreciate the governor's remarks," with an emphatic, "You don't!"
The video of the interview between Costello and Ellmers can be seen AFTER THE JUMP…