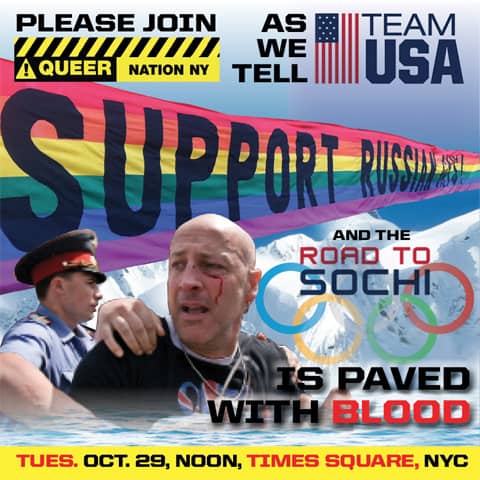 Activists from Queer Nation will be on hand when the U.S. Olympic Team kicks off its "Road to Sochi Tour" in NYC's Times Square on Tuesday at noon.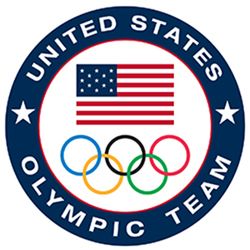 Writes the USOC in a press release about the event:
The 100 Day Countdown event has become a celebrated commemoration prior to each Olympic Games. In 2013, the event will include athlete demonstrations on a towering ski and snowboard ramp; an ice rink for curling, figure skating, speedskating and hockey demonstrations; and the Flying Ace All-Stars performing ski and snowboard tricks on trampolines – all in the heart of Times Square. The event will also include 12 interactive sport elements for fans to try, and more than 40 athletes are expected to participate in autograph sessions, demos and on-stage interviews, including the following Sochi 2014 hopefuls: Kelly Clark – snowboarding (halfpipe)
· Sarah Hendrickson – ski jumping
· Steve Holcomb – bobsled
· Hannah Kearney – freestyle skiing (moguls)
· Ted Ligety – alpine skiing
· Taylor Lipsett – sled hockey
· Evan Lysacek – figure skating
· Elana Meyers – bobsled
· Tom Wallisch – freestyle skiing (slopestyle)
· Torin Yater-Wallace – freestyle skiing (halfpipe).
Writes Queer Nation on a Facebook page for its protest:
Join Queer Nation NY and the US Olympic Committee in Times Square at noon to "celebrate" 100 days until the start of the Winter Games at Sochi, Russia. Help Queer Nation NY s make a statement that "The Road to Sochi" is paved with the blood of LGBT people. Representatives of International and United States Olympic Committee will be on hand. Presented by Liberty Mutual Insurance, there will also be a reception for Olympic Sponsors and VIPs at 1:30 pm.
The USOC has spoken out about Russia's anti-gay law. Wrote our Sean Mandell earlier this month:
In a show of its disapproval for Russia's anti-gay laws, the U.S. Olympic Committee (USOC) decided yesterday to add sexual orientation to its non-discrimination policy, the AP reports. Though unwilling to go further and insist upon a change to the anti-gay laws currently in effect in Russia, USOC CEO Scott Blackmun added "The fact that we do not think it is our role to advocate for a change in the Russian law does not mean that we support the law, and we do not."