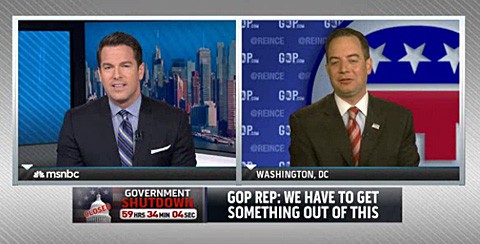 Thomas Roberts got into it today with RNC Chair Reince Priebus over the shutdown and House GOP demands on Obamacare.
"Have you been watching the news?" he said, referencing glitches consumers have experienced in trying to access online exchanges. "At the very least, at this very moment, Obamacare's not ready for prime time."
When asked by host Thomas Roberts to explain House Republicans' unwillingness to pass a clean continuing resolution bill without ties to delays in Obamacare, Priebus blamed the president for refusing to negotiate, before turning the crosshairs on his interviewer.
"It sounds like I'm debating the chair of the DNC," Priebus said to Roberts. Priebus also advised Roberts to watch Schoolhouse Rock for lessons on how a bill becomes law.
"So we have to capitulate to whatever the president wants?" asked Priebus.
"No, you have to govern," said Roberts.
Asks Roberts, later: "Is this really what the Tea Party conservatives have wanted all along is to demonstrate the power that they have on being able to 'choke out' the American people?"
Watch, AFTER THE JUMP…
Visit NBCNews.com for breaking news, world news, and news about the economy