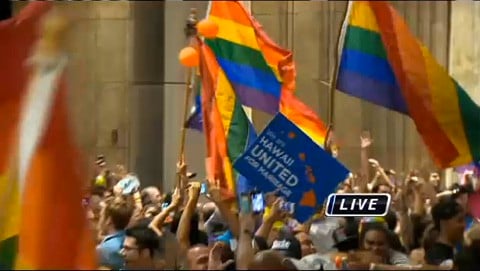 Hawaii's House passed SB1, the marriage equaliy bill, on a thrid and final reading in a 30-19 vote after hours of debate and many delays, Hawaii News Now reports: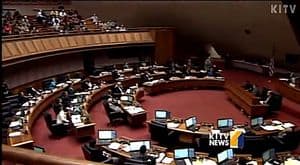 Advocates of the bill, who flooded the mauka side of the Capitol Rotunda, erupted in cheers and tears of joy as they reached for each other hugging and kissing their fellow same-sex marriage supporters. Across the way on the makai side, opponents fell quiet after hours of chanting "Let the people vote!" — many held hands and bowed their heads in prayer.
In a statement released by the Governor's office immediately following the bill, Governor Neil Abercrombie — who called the Special Session — said the following:
"I commend the House of Representatives for taking this historic vote to move justice and equality forward. After more than 50 hours of public testimony from thousands of testifiers on both sides of the issue, evaluating dozens of amendments, and deliberating procedures through hours of floor debates, the House passed this significant bill, which directly creates a balance between marriage equity for same-sex couples and protects our First Amendment freedoms for religious organizations. I applaud Speaker Souki, Judiciary Chair Rhoads, Finance Chair Luke, Majority Leader Saiki and the rest of the leadership team for their patience, fairness and hard work in shepherding this bill through the House. I am confident that the Senate will address the bill in the same spirit. I look forward to a successful conclusion to this major step in affirming everyone's civil rights."
The Senate will address the amended version of the bill on November 12.
Once passed, it would go into effect on December 2, making Hawaii the 16th state to have passed marriage equality.
Watch a news report from HNN shwoing the vote and the reaction, AFTER THE JUMP.. Hawaii News Now – KGMB and KHNL