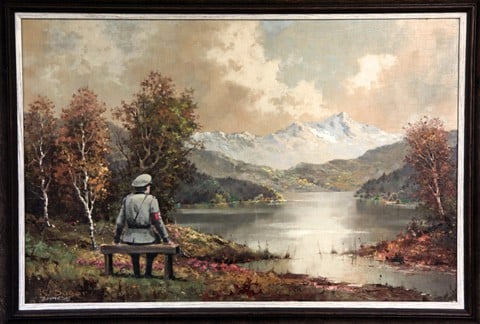 The auction for the Banksy work The Banality of the Banality of Evil, which was given to AIDS charity Housing Works and sold for $615,000, fell though after the person who original won it failed to make good, TPM reports:
Wil Emling, a Minneapolis man who bid on behalf of what he described as a private buyer, said Housing Works contacted him on Monday. "I get an email saying basically the bidder has canceled and to call him right away," Emling said.
He then spoke by phone to Bernardo, who he said told him the first bidder to make an offer and wire the funds would walk away with the one-of-a-kind Banksy. But Emling had reservations about the painting in light of the news and ultimately decided to walk away.
Bernardo confirmed to TPM that the organization contacted Emling as well as "all the top qualified bidders." The painting was ultimately sold to someone, Bernardo said, although he declined to disclose its final price or the name of the buyer out of respect for the person's privacy.
Emling also said that Housing Works told him that the charity had known that a Banksy work was coming and "So the whole story about somebody buying it weeks ago and then somebody coming and dropping it off and telling them, 'I need to speak with the manager, you have a very expensive piece on your hands here" isn't the case, a story which Housing Works denies.