John McCain skipped Monday ENDA vote to tape Late Night with Jimmy Fallon.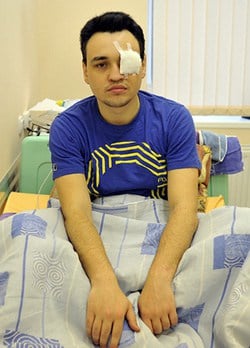 More on the recent anti-gay attack at an HIV organization in Russia: "This was the first attack on an event that was NOT a street demonstration, and was not widely publicised as a public event," Polina Andrianova of the St. Petersburg organization Coming Out said in an email. "Attacking a closed event for the LGBT community is the beginning of pogroms of LGBT people."

Gwyneth Paltrow wants Vanity Fair destroyed.

NYT obit for gay journalist Doug Ireland: "With the experience of a political insider and a Wildean savoring of venality, he wrote with a firebrand's zeal, an aversion to hypocrisy, a stinging wit — and a willingness to hold the feet of candidates and elected officials to the fire, even liberal ones when they shied from a progressive agenda."

Romney adviser: Obamacare is a "war on bros".

Human Rights Campaign's international initiative not sitting with with some global activists:"While some LGBT activists welcomed the new resources that will be
devoted to international work, many questioned whether HRC will get
involved in foreign countries with adequate sensitivity to local
context. They were also unsettled by the comments one of the major
funders to the initiative, hedge fund manager and Republican donor Paul
Singer, gave during the rollout that appeared to tie the initiative to
making the GOP more gay-friendly and to promoting broader U.S. foreign
policy objectives. The fact that Singer has earned some of his wealth from a 'vulture fund' that sues economically troubled countries to collect on their sovereign debt further tainted the initiative in their eyes."

Miley Cyrus announces Bangerz tour, dates.

Courtney Love trolls Miley: "The music is so not there. I doubt it's going to be anything anyone talks about in ten years…"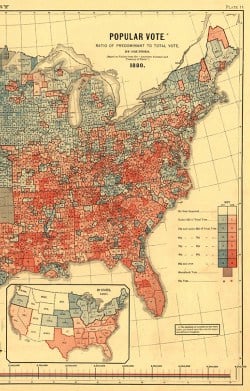 1883 Election: Where Republicans and Democrats won the vote.

Signorile: ENDA stuck in a 90's time warp. "The fact that ENDA is unlikely to get a vote in the House gives us a chance to make sure the religious exemption comes out of this bill. That may make it harder to get it passed, and it may take a lot longer, but so be it. There are no shortcuts or bargains on civil rights. And quite honestly, when you ask for crumbs from the outset, both your friends and your enemies don't take you very seriously."

Bryan Fischer: Michelle Obama is inviting demons into the White House. "Citing an article from CNS that reported that First Lady Michelle Obama would be "hosting an event on Tuesday to mark the Hindu festival of Diwali, or 'festival of lights,' to honor Lakshmi, the goddess of wealth and prosperity, Bryan Fischer warned that Obama was inviting 'demons into the White House.'"

FOX News pretends ENDA's religious exemptions aren't real.

NOM condemns Illinois House for passing marriage equality: "It's disappointing but not surprising that the House has voted to redefine marriage. The losers will be the people of Illinois who will see that redefining marriage will unleash a torrent of harassment toward those who believe that marriage is the union of one man and one woman," said Brian Brown, NOM's President. "Once the law goes into effect in June of next year, we will see individuals, businesses and religious groups sued, fined, brought up on charges of discrimination and punished simply for holding true to the traditional view of marriage."

Annie Lennox glows in London.

Zachary Quinto strikes a sexy pose for Tyler Shields.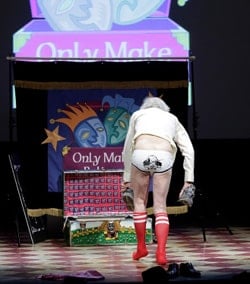 Ian McKellen stripped to his undies for a Broadway charity gala.

North Russian region Arkhangelsk repeals its law banning gay propaganda because the federal law makes it redundant: "The region, known as 'Archangel,' was originally the second after Ryazan to enforce a local anti-gay law banning "propaganda" in 2011."

Man reports hate crime at Cleveland bar: "It was ugly as a gay bash could get without there being blood. Random dude (who I've since learned is aging neighborhood drunk Post 1 regular Frank Mack, who lives 2 blocks away) walks up to us at the end of the bar, asks if we're gay, I joke yeah, ha ha we just got back from San Fran after gettin' hitched. Jokes sometimes pull the air out of a balloon. Not this time. Mack says his son "ain't no faggot", calls us both "faggots" before putting a forearm into my friend, staring, then taking a victory lap around the bar."

Actor Dominic West is going to play a gay activist in the upcoming film Pride: "The Wire star will put his singing skills to the test in the BBC comedy-drama, which celebrates the bravery of gay and lesbian activists who campaigned to support striking miners in 1984. The role, which is new territory for the 44-year-old British actor, will see him sing I Will Survive in front of a group of Welsh mine workers during their bitter fightback against Margaret Thatcher's sweeping pit closures."