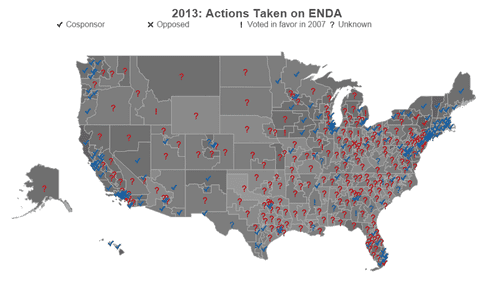 In a historic 64-32 vote, the Senate this month approved the Employment Non-Discrimination Act (ENDA), which would ban discrimination in hiring and firing based on sexual orientation or gender identity, sending the bill to the House, where it's destined to languish–at least as long as John Boehner is Speaker of the House.
But a new report from the Williams Institute–a legal research and policy think tank at UCLA Law School–demonstrates that if House members voted according to their constituencies' beliefs, ENDA might very well pass unanimously:
A majority of Americans in every U.S. congressional district support laws that protect against employment discrimination on the basis of sexual orientation, such as the proposed Employment Non-Discrimination Act (ENDA) passed last week by the U.S. Senate . . .

When a similar bill was considered in 2007, 183 members of the U.S. House of Representatives voted against it, even though a majority of their constituents supported the policy. The current ENDA now awaits consideration in the U.S. House of Representatives, and research confirms that ENDA would pass if all members followed their constituents.
A very interesting interactive graphic comparing 2007 to 2013 can be found HERE on the Williams Institute's website.
One rather big caveat worth mentioning in terms of the Williams Institute report: the public opinion data used by the center looked only at laws that would prevent employment discrimination on the basis of sexual orientation.  The most recent version of ENDA includes language providing protections for gender identity as well–protections that were initially included but eventually stripped from the unsuccessful 2007 bill.  If polled on sexual orientation and gender identity protections, some Americans' responses would undoubtedly be different.
Nevertheless, the Washington Post's Monkey Cage blog took a similar look at state-by-state opinion polls before the Senate voted on ENDA, and came to the same conclusions as the Williams Institute:
Will ENDA receive the necessary votes? If senators listened to their constituents, the bill would pass overwhelmingly. Nearly all recent opinion polls indicate that a large majority of the American public — more than 70 percent — supports efforts to make employment discrimination against gay men and and lesbians illegal. Of course, these national numbers are not what the senators are likely to care about. However, when we use national polls to estimate opinion by state, we find that majorities in all 50 states support ENDA-like legislation (note that in 1996, majorities in only 36 states supported ENDA). Today, public support ranges from a low of 63 percent in Mississippi to a high of 81 percent in Massachusetts.
Of course, 32 senators did in fact end up voting against the majority of their constituents that supports employment discrimination protections for LGBT Americans, so it's a pipe dream to think that the Williams Institute report means anything different will happen in the House.  Still, it's worth pointing out that, on this issue at least, Republican members of Congress are pretty far out of step with the very citizens they're representing.
Check out a district-by-district map of the U.S. with the results of the 2007 ENDA vote, AFTER THE JUMP, via the Williams Institute. The 2013 version of the map can be found at the beginning of this post.