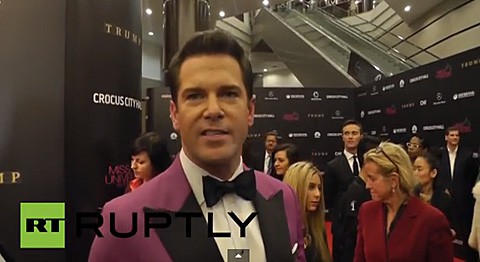 While last night's Miss Universe telecast did not, unfortunately, provide an opportunity for host Thomas Roberts to make any kind of statement about Russia's anti-gay laws from the stage, he did take a moment to do so on the red carpet.
Said Roberts to Russian state-run network RT: 
"I know the law is very vague and still hard to interpret for many people. But it is discrimination and that's definitive. And I don't think that the LGBT population in Russia or anywhere should be marginalized to that degree. We are not asking for special protection. We're just asking for equal respect."
Watch, AFTER THE JUMP…
Roberts made headlines in mid-October by deciding to host the event. LGBT advocates were troubled that Roberts would choose to lead the pageant in light of the country's anti-gay laws, and because of the conservative views of the pageant's owner Donald Trump, who opposes gay marriage, among other things.
Said Roberts at the time: "I choose to offer my support of the LGBT community in Russia by going to Moscow and hosting this event as a journalist, an anchor and a man who happens to be gay. Let people see I am no different than anyone else."
Earlier this week, Roberts filed an interview with a Russian journalist who was fired after coming out of the closet on the air in August.