U.S. Rep. Mike Michaud, (D-ME) who is also running for governor of Maine, came out of the closet today in response to "whisper campaigns, insinuations and push-polls some of the people opposed to my candidacy have been using to raise questions about [his] personal life".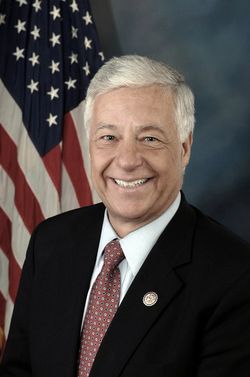 Writes Michaud in a Portland Press Herald op-ed:
"They want people to question whether I am gay.Allow me to save them the trouble with a simple, honest answer: 'Yes I am. But why should it matter?'"
Adds Michaud:
That may seem like a big announcement to some people. For me, it's just a part of who I am, as much as being a third-generation mill worker or a lifelong Mainer. One thing I do know is that it has nothing to do with my ability to lead the state of Maine.
Whether I was punching a time clock at Great Northern Paper Company for 29 years, serving the people of Maine in the state Legislature, or fighting for our nation's veterans on the Veterans' Affairs Committee, my personal life has never factored into how I do my job.
That's certainly not going to change if I'm elected governor. While I've grown and evolved over the course of my career, I've never lost sight of where I came from.
My father worked in the mill for 43 years. My grandfather before him for 40 years. I was the second of six children, and from a young age our parents instilled in us the values of hard work, integrity and honesty.
Most of all, I was brought up believing you should judge a person based on the content of his or her character, not by their race, ethnicity, gender or sexual orientation. That's a value I know most Mainers share.

Michaud says he does not want to be seen as someone who's ashamed of who he is, and plans to run a positive campaign:
Growing up in a large Franco-American Catholic family, it's never been in my nature to talk about myself. I write this now merely to let my opponents and the outside interests who fund them know that I am not ashamed of who I am. And if seeing someone from my background, in my position openly acknowledge the fact that he's gay makes it a little bit easier for future generations to live their lives openly and without fear, all the better.
I don't plan to make my personal life or my opponents' personal lives an issue in this campaign. We've had enough negativity in our politics and too many personal attacks over the last few years. We owe it to the people of Maine to focus on how we get our state back on track.
Michaud is running against incumbent Republican Governor Paul LePage. Asurvey published on October 19th showed Michaud and LePage nearly even, with independent candidate Eliot Cutler behind them by a few percentage points.
Mike Tipping, at the Bangor Daily News, thinks Michaud's coming out will help his campaign.
A few of his thoughts, AFTER THE JUMP…
Mike Tipping, via the Bangor Daily News:
First of all, the Maine electorate is more accepting of fairness and equality for gays and lesbians than the nation as a whole and Mainers have supported a number of civil rights laws, including passing marriage equality for same-sex couples by referendum last year.
Second, many or most anti-gay voters who make their decisions based on these kinds of issues were never going to vote for Michaud anyway. His public support for same-sex marriage and abortion rights had probably already alienated them. In a recent national NBC/Wall Street Journal poll, 20% of voters said mere support for same-sex marriage would be a determining factor for them in voting against a candidate.
Third, the specific dynamics of this particular election may be of benefit to Michaud. Governor LePage seems to have already locked down the conservative end of the electorate (and most of the anti-gay vote) and the fluidity in the race is among the moderate and progressive voters who will decide between Michaud and Cutler. Up to this point, Michaud seems to have had an advantage over Cutler among a wide swath of these voters (and a lead in the polls) because of name recognition and issues of economics and class (the millworker vs. the millionaire), but Cutler has found some purchase on social issues…
…Fourth, this part of Michaud's identity will make him a symbol for supporters of equal rights for LGBT people across the country (whether he likes it or not) and will likely dramatically increase his fundraising potential.
Read Tipping's full column HERE.