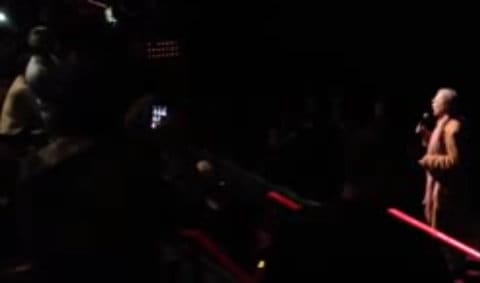 Fans of Peter Jackson and J.R.R. Tolkien got a surprise when they attended a Friday the 13th midnight showing of The Hobbit: The Desolation of Smaug at New York City's AMC Lincoln Square—Gandalf the Grey himself (Ian McKellen) appeared for a few opening remarks.
The crowd broke into applause and gave the openly gay British actor a standing ovation as he commented on the film. McKellen said, "I think the dragon goes on a bit long, but my God he looks amazing." If you've seen the film, you know he's right.
He also says, "I just wanted to let you know that when we were doing Lord of the Rings all those years ago at the beginning of the century, we didn't really know whether anybody was going to want to come and see them. And it happened that you and others enjoyed them. So when we went back to do the pickups for part two and part three of Lord of the Rings, it was as if we were making these films for people who really cared."
McKellen is currently playing in a Broadway production of Samuel Beckett's Waiting for Godot and in Harold Pinter's No Man's Land. He's also been seen hanging around with his BFF and Godot co-star Sir Patrick Stewart outside The Stonewall Inn.
See video of McKellen's appearance AFTER THE JUMP…