Actress Maria Bello (Permanent Midnight, Payback, Coyote Ugly, The Cooler, A History of Violence, Thank You for Smoking) came out as bisexual in a NYT column about coming out to her 12-year-old son Jack.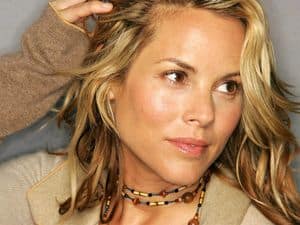 "So are you romantic with anyone right now?" he asked.
I took a deep breath, knowing that my answer, and his response, would have an impact on our lives for a very long time.
He was right; I was with someone romantically and I hadn't told him. I had become involved with a woman who was my best friend, and, as it happens, a person who is like a godmother to my son.
How and when should I tell him? When I explained the situation to a therapist, she smiled and said, "Your son may say a lot of things about you when he's older, but he will never say his mother was boring."
Her advice was to wait until he asked. And now here he was, asking.
…
I exhaled and finally said it: "Clare."
He looked at me for what seemed like an eternity and then broke into a huge, warm smile. "Mom, love is love, whatever you are," he said with wisdom beyond his years. (Yes, he obviously attends one of those progressive schools in Los Angeles!)
Bello also discusses coming to terms with her own bisexuality after two relationships with men, and finding love with her partner Clare:
She was one of the most beautiful, charming, brilliant and funny people I had ever met, but it didn't occur to me, until that soul-searching moment in my garden, that we could perhaps choose to love each other romantically.
What had I been waiting for all of these years? She is the person I like being with the most, the one with whom I am most myself.
The next time I saw her, in New York, I shared my confusing feelings, and we began the long, painful, wonderful process of trying to figure out what our relationship was supposed to be.