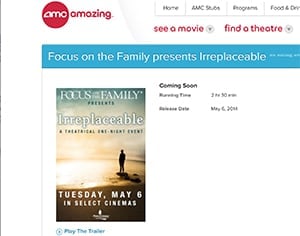 On May 6, 2014, AMC theaters across the U.S. will be showing a one-time screening of Focus On The Family's Irreplaceable as a part of their Fathom Events program. The documentary film follows one man who believes in traditional marriage and family as he consults with various "experts" – like anti-gay Rabbi Shmuel Goldin, ex-gay advocate Dr. Miriam Grossman, and Prop 8 supporter Michael Medved - to determine if his traditional marriage is "meaningful or outdated."
Coming from an independent film maker, there are a wealth of interesting opinions and issues to be explored on the topic of marriage, relationships, and family. However, since it's coming from the group that:
…it's probably safe to assume that the man's findings will be less than balanced, or even honest.
Via Joe.My.God. You can watch the trailer for Irreplaceable AFTER THE JUMP…