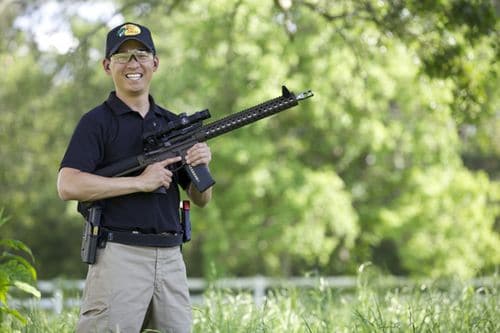 Chris Cheng, the Season 4 Champion of the History Channel's Top Shot, has come out of the closet in an interview with gun magazine Recoil.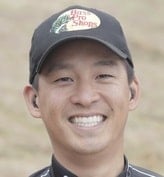 Cheng said producers and fellow contestants knew he was gay:
I'm pretty sure it factored into the casting panel's decision to accept me, but it was one of many factors they considered. I had to demonstrate that I could shoot well. Top Shot isn't about personality conflicts and drama like other reality competitions. It's a marksmanship competition to see who can master a wide variety of weapons in unpredictable, challenging situations.
…
I was pleasantly surprised when other competitors found out I was gay. They were either indifferent or accepting. The most common response I received was "Chris, we don't really care that you're gay, we care about how well you can shoot…the better we all shoot, the more exciting the competition will be…" I suppose this affected the house dynamics in that I never heard any gay pejoratives during my six weeks there.
The shooting community was honestly one of the last places I expected gay acceptance on any level. That really caught me off guard, in a good way. It's how life should be, where no one cares if you're gay, straight, or somewhere in between. We should be evaluated and judged based on our skills and accomplishments. While I was hoping to break some stereotypes, some of my own stereotypes regarding the shooting community were also broken. It was an enlightening experience.
More of the interview at Recoil...
Cheng added on his personal blog:
While it's something my friends and family have known for years, I believe now that I have become a television personality and public figure, it is important to be honest and upfront about who Chris Cheng is. Thankfully, tolerance and acceptance are contagious. Being gay is no longer something to hide…One reason why I chose to come out publicly is that I'm a gay guy in a gun world. Hunters, sport shooting enthusiasts, and collectors are too often stereotyped as part of efforts to politicize guns as we witnessed last week on the anniversary of the horrific Newtown tragedy. Take it from someone who in a single package is not only gay, but Chinese, Japanese, California-born, a college graduate, a tech geek who worked on cool Google projects, a gun enthusiast and a passionate 2nd Amendment advocate. Our community is as diverse as anyone's.
Make sure not to miss our list of The Top 53 Most Powerful Coming Outs of 2013. As a late addition, Cheng would certainly qualify.