Outsports: 76 people who came out in sports in 2013.

Federal judge to hear arguments today in challenge to Ohio's ban on gay marriage. "Gerhardstein will ask Black to declare that Ohio's ban on gay marriage is a violation of constitutional rights and order funeral homes and coroners to document the marriages of gay couples on death certificates."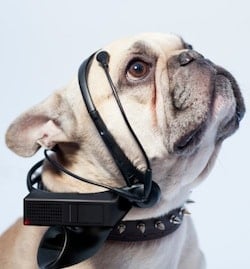 No More Woof: Company crowdfunding dog bark translator.

The Jon Hamm-aconda has returned for a holiday appearance.

Delta Airlines sorry it generated the confirmation code 'H8GAYS'. "At first I didn't think I read it right," Jeff White, a student at the University of West Florida, tells the Washington Post. "I was worried that another customer might think I somehow picked that code. If I were a gay male, I might have thought that a Delta worker purposely gave me that code, and that would have made me extremely uncomfortable."

No, Pope Francis is not the person of the year.

Federal judge hearing Pennsylvania gay marriage case prevents appellate review: "U.S. District Judge John Jones on Tuesday rejected the state's argument that his court lacks the power to hear the case, and suggested that the 3rd U.S. Circuit Court of Appeals would agree with him. Jones says there've been "substantial and far-reaching" developments in how courts treat equal protection and due process rights since the U.S. Supreme Court's 1972 decision that it lacked the jurisdiction to decide whether a Minnesota law banning same-sex marriages violated the Constitution."

Brad Pitt is 50 today.

Hugh Jackman recently had a melanoma removed from his nose but that hasn't stopped him from frolicking shirtless on Australian beaches.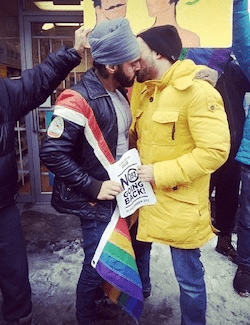 F

acebook suspends account for 12 hours after removing photo of gay Sikh kissing a man.

California anti-trans coalition pre-spins its potential loss: "With many counties still to report, the Secretary of State is currently claiming a validity rate of 78.51%. That means that slightly more than 1 out of 5 of the signatures submitted are not being counted. Some of this is proper. Unfortunately some individuals that signed the petition are not registered to vote or have moved without changing their registration. But some of the signatures are being excluded for other, more questionable reasons."

NASA spots alien moon.

Man convicted of killing Black Gay Pride attendee in Atlanta in 2010: "Derrick Burden, 24, was sentenced Friday to two life sentences without the possibility of parole. He was found guilty of shooting 21-year-old Samuel Blizzard, Jr. and 26-year-old Calvin Streater to death inside a southeast Atlanta townhouse on Sept. 5, 2010."
J

ustin Bieber made the butt of jokes at The Laugh Factory, claims he's retiring from music.

Miley Cyrus and Kellan Lutz?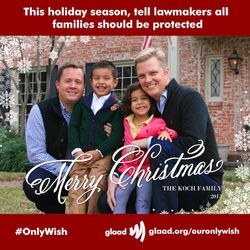 NOM bashes LGBT families, GLAAD campaign. "It is troubling that, this holiday season, the gay activist organization GLAAD is expressing its 'Only Wish' as creating a new normal where children will be deprived of the love of either a father or a mother on a regular basis, and indeed that this situation will be rewarded and incentivized by the government […] For our part, we'll wish that folks continue waking up to the devastating reality of what a disservice redefining marriage does to men, women, and children, and to society as a whole."

What happens if Ruth Bader Ginsburg is replaced by a Republican?

The coming instant planetary emergency: "A study published in the prestigious journal Nature this July suggested that a fifty-gigaton "burp" of methane from thawing Arctic permafrost beneath the East Siberian sea is "highly possible at anytime." That would be the equivalent of at least 1,000 gigatons of carbon dioxide. The possibility of abrupt climate change and/or abrupt changes in the earth system triggered by climate change, with potentially catastrophic consequences, cannot be ruled out. Positive feedback from warming may cause the release of carbon or methane from the terrestrial biosphere and oceans."