UK Prime Minister David Cameron has no plans to attend the upcoming Olympics in Sochi, but government sources insist that his absence should not be interpreted as a statement about Russia's anti-gay record. The Independent reports: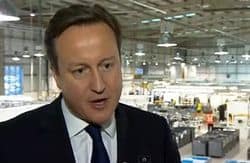 Government sources told The Independent that culture ministers would be part of the British delegation to Sochi, although the final line-up had not been decided. It is also unlikely that Britain will follow President Obama's lead and send a high-profile gay rights activist as part of the official presence.
"The PM believes in engagement. He doesn't think that boycotts and grand gestures achieve much," an aide said. 
Downing Street sources pointed to Mr Cameron's decision to attend the Commonwealth summit in Sri Lanka in November, even though the Canadian and Indian prime ministers stayed away, and pointed out that Mr Cameron raised the issue of gay rights with President Putin when he attended the G20 summit in St Petersburg in September.
In other UK news, Peter Tatchell and other gay rights activists ambushed Coca-Cola's Christmas event in Covent Gardens, London yesterday to protest against the company's sponsorship of the Sochi Games.