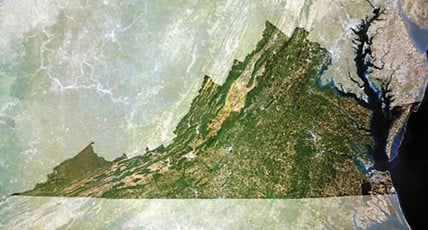 Lambda Legal reports via press release that a motion to dismiss their challenge to the state's ban on same-sex marriage has been denied by a federal court:
A federal court denied a motion from the Staunton Circuit Court Clerk today seeking dismissal of a lawsuit challenging Virginia's ban on marriage for same-sex couples. The lawsuit, filed earlier this year on behalf of two couples by the American Civil Liberties Union, the ACLU of Virginia, Lambda Legal, and the law firm Jenner and Block, will move forward with the Staunton Circuit Court Clerk and the Registrar of Vital Records remaining as named defendants.  The court today also removed the governor as a named defendant in the case.
"We're grateful that we have the chance to move ahead to challenge this discriminatory ban on behalf of loving and committed Virginia couples," said Claire Guthrie Gastañaga, executive director of the ACLU of Virginia.
"We will continue to fight for families in Virginia and all across the country," said Joshua Block, staff attorney with the ACLU Lesbian Gay Bisexual and Transgender Project. "All loving families deserve the protection and dignity that come with marriage."